In the world of tea enthusiasts, finding the perfect tea glass set can be a mission in itself. Many individuals seek a classic design that combines elegance with functionality. However, in recent years, there has been a growing trend towards adding a modern twist to these timeless pieces. This fusion has resulted in the creation of tea glass sets that cater to both traditional and contemporary tastes.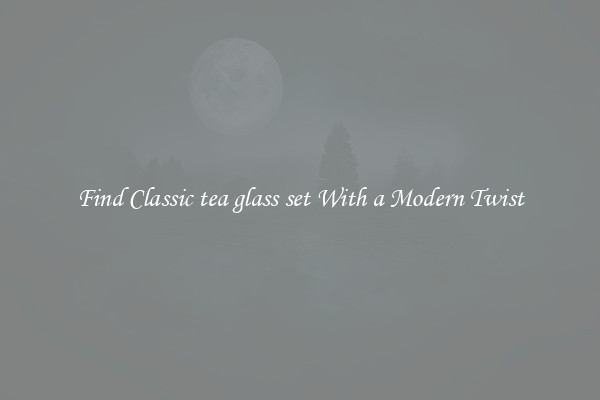 One of the key aspects of finding a classic tea glass set with a modern twist is to consider the materials used. Traditional tea glasses were typically made from delicate porcelain or ceramic, adorned with intricate designs. While these options still exist, modern sets incorporate materials like borosilicate glass, which offers durability and heat resistance. This modern twist ensures that the tea glasses are not only visually appealing but also highly practical.
In terms of design, classic tea glass sets often included intricate patterns or hand-painted details that captured the essence of the culture they originated from. The modern twist on these designs now involves clean lines, geometric shapes, and minimalistic accents. This contemporary approach adds a touch of simplicity and sophistication to the traditional aesthetic, appealing to those who prefer a more sleek and stylish look.
Many tea glass enthusiasts appreciate the addition of modern features to the classic designs. For instance, some sets now include double-walled glasses, providing insulation and ensuring the tea remains at the desired temperature for a longer period. This innovation caters to individuals who enjoy savoring their tea slowly, without the need for frequent reheating.
Another modern twist on classic tea glass sets is the inclusion of ergonomic handles or grip-friendly shapes. This improvement ensures a comfortable and secure hold, preventing any accidental spills while enhancing the overall user experience. Additionally, some sets now come with silicone or cork sleeves, offering a non-slip grip and protecting the hands from the heat of the tea.
The fusion of classic and modern elements in tea glass sets does not stop at the glasses themselves. The accompanying saucers are also undergoing transformations. Traditionally, saucers were simple plates used to catch any drips or spills. Nowadays, they are designed to complement the tea glasses, featuring matching patterns or innovative shapes that provide aesthetic cohesion to the entire set.
In conclusion, the search for a classic tea glass set with a modern twist is an exciting journey that caters to the evolving tastes and needs of tea enthusiasts. The careful marriage of traditional and contemporary elements results in visually appealing sets that are also highly functional. Whether it is the choice of materials, the design aesthetics, or the addition of modern features, these tea glass sets offer a perfect blend of old-world charm and new-age innovation. The next time you enjoy a cup of tea, elevate your experience with a classic tea glass set that embraces the modern era.